Wedding receptions bring together newlyweds, their families and friends, food and music. Ideally, you'll hold the reception at a venue with a scenic, memorable setting. Koloalandingresort.com provides the type of imagery than many couples dream about. In addition to a nice background for photos and videos, couples should plan in advance what they want to do for music at their reception.
Traditional DJ
The most popular choice for music at a wedding reception is a mobile DJ who brings a sound system and a music library to fit the musical tastes of your crowd. The best way to make sure the DJ plays the music you want is to provide an extensive song list. If the reception last four hours, you'll need about 60-75 songs.
Usually the first few hours is background music during a meal and toasts. Traditional receptions follow a series of announcements and events. The advantage of a DJ is he or she can play popular dance music that creates a party atmosphere, as well as announce the reception events. The presentation will go much more smoothly if you create a timeline of events for the DJ to follow. Here are some of the most traditional events commonly conducted at receptions:
arrival of the bride, groom and wedding party
toasts (often started by the best man)
first dance as a married couple
mother and son dance
father and daughter dance
cake cutting
bouquet and garter toss
last dance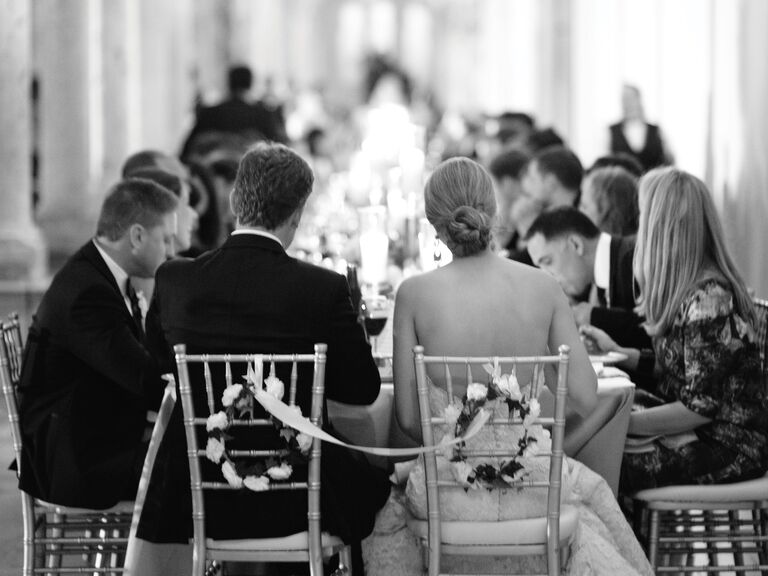 Hire a Band or Solo Musician/Singer
Some couples like to hire a band, or a string quartet, which usually are more expensive than a DJ, partly because you have to pay more individuals. Solo musicians can be a more affordable alternative. A pianist or singer/keyboardist can perform popular cover songs to entertain your crowd.
If you don't have a conversation about music with the band, then you may be dealing with surprises. Familiar upbeat music is typically what gets people dancing. If the band isn't known and just does their obscure originals, it may not have the impact on the crowd that you want. Just like with a DJ, it's a good idea to go over song lists with the band or solo artist.
Some solo performers who do weddings for a living can perform hundreds of cover songs, which is great for taking requests. A typical solo artist has a synthesizer that includes a drum machine and the ability to simulate sounds of hit recordings. A fun alternative that mixes a DJ with live performance is a karaoke DJ, who inspires people in the crowd to sing along with their favorite songs.
Create Your Own Playlist
With the advent of music streaming services and iPods, it's possible to bypass a DJ and a band and just create your own playlist and presentation. All you have to worry about is finding a sound system. One of the main reasons many people still hire DJs is to have access to professional sounding equipment that can fill a ballroom.
If you are able to bring your own sound system or use a house system, then you can start planning your playlist. All you need is a digital device that stores music or the internet to access a music streaming service. If you want the most control over playback of your music, such as tools for professional mixing, PCDJ for PCs and MegaSeg for Macs are effective solutions. The software is affordable and powerful. It's used by radio stations, night club DJs and hotels.
DJ software allows you to find songs quickly with search tools, which is useful for taking requests from the crowd. Usually requests help add excitement to the event. Otherwise, you can just flip the software to automation and let nonstop music play all night. Instead of hiring a DJ to make announcements, you can save money by letting friends take turns on the microphone.
Conclusion
Music goes along with wedding receptions as much as food, photography and videography. Think about what will work best for your budget and the venue. Most wedding venues are set up to accommodate DJs, bands and other entertainers. Some venues even provide all the PA equipment you need in case you want to DJ your own wedding.
How to Decide on Music for Your Wedding Reception