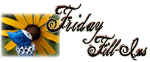 1. Bonding time with Ana (coming home for a vacation), my bestfriend, Gina's birthday… are some of the things I'm most looking forward to in October.
2. Sometimes I stutter, when I am put on the spot.
3. Hope! and that's why there is a saying, "never say never"!
4. When I'm down, I rant and frown and then I pray. 😉
5. Online is where you'll find me most often.
6. A rainy day is good for cuddling.
7. And as for the weekend, tonight I'm looking forward to watching episodes 1 and 2 of the 3rd Season of HEROES with the hubby, tomorrow my plans include accompanying my sis to the doc and Sunday, I want to spend the whole day at church with the hubby!