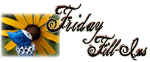 Those of you with multiple blogs or private blogs…if you could add your link to the Fill-Ins, that would be GREAT! Questions 1 and 2 this week are courtesy of Sherry, thanks!Here we go:
1. If I could travel back in time, I'd go to the time when I was a baby. I'd love to see how it was like.
2. Give me an Avanza or give me a year supply of Belgian chocolates.
3. I am listening to a running car engine.
4. Somewhere, someone is thinking of getting an MSI WIND.
5. I'll always be determined and driven.  That's just the way I'm built.
6. My idea of a good time includes quality time with the hubby, family and friends.
7. And as for the weekend, tonight I'm looking forward to watching Iron Man with the hubby, tomorrow my plans include a continuation of our Yard Sale and Sunday, I want to to bond with my girls at church!